Currently, there are two operating modes in the Spreadsheet: Interactive Mode and Editing Mode. Interactive Mode allows users to view and interact with the spreadsheet cells, while Editing Mode provides operations for manipulating cells. The modes can be toggled via the View menu or their corresponding keyboard shortcuts ('Ctrl-Shift-I') and ('Ctrl-Shift-E').
Interactive Mode
In Interactive Mode, users can interact directly with the viewer for an individual cell, interact with multiple cells at once, or change the layout of the sheet. Because cells can differ in their contents, interacting with a cell changes based on the type of data displayed. For example, in a cell displaying VTK data (a VTKCell), a user can rotate, pan, and zoom in or out using the mouse.
In a sheet, a cell can be both active and selected. There can only be one active cell, and that cell is highlighted by a yellow or grey border. Clicking on any cell will make it active. This active cell will respond to keyboard shortcuts as well as mouse input. In constrast to the active cell, one or more cells can be selected, and the active cell need not be selected. To select multiple cells, either click on a row or column heading to toggle selection or 'Ctrl'-click to add or remove a cell from the group of selected cells. The backgrounds of selected cells are highlighted using a platform-dependent selection color. See Figure Different states of a spreadsheet cell... for examples of the different cell states.
Depending on the cell type, additional controls may appear in the toolbar when a cell is activated. These controls affect only the active cell, and change for different cell types. As shown by Figure Different states of a spreadsheet cell (d), a cell optimized for rendering 2D images (a ImageViewerCell) adds controls for resizing, flipping, and rotating the image in the active cell.

The Camera
Spreadsheet cells that display VTK data typically are associated with a vtkRenderer, which is associated with a vtkCamera. If the camera is not assigned in the workflow, a default one is created. If the rendered geometry is not visible in the window, pressing 'r' will invoke the renderer's ResetCamera() command, which centers the geometry. Also, pressing 'i' will initiate interactions with interactive vtk objects.
Arranging Cells
As described in Section Custom Layout Options, cells can be resized by either resizing rows, columns, or an individual cell. In addition to resizing, a row or column can be moved by clicking on its header and dragging it along the header bar to the desired position. See Section Editing Mode for instructions on moving a specific cell to a different location.
Synchronizing Cells
Often, when a group of cells all display results from similar workflows, it is useful to interact with all of these cells at the same time. For example, for a group of VTKCells, it is instructive to rotate or zoom in on multiple cells at once and compare the results. For this reason, if a group of cells is selected, mouse and keyboard events for a single cell of the selection are propogated to each of the other selected cells. Currently, this feature only works for VTKCells, but we plan to add this to other cell types as well. An example of this functionality is shown in Figure When selecting all cells....
Editing Mode
Recall that Editing Mode can be entered either by accessing the View menu or by keying 'Ctrl-Shift-E'. Editing Mode provides more operations to layout and organize spreadsheet cells. In this mode, the view for each cell is frozen and overlaid with additional information and controls (see Figure The spreadsheet in editing mode...). The top of the overlay displays information about which vistrail, version, and type of execution were used to generate the cell. The bottom piece of the overlay contains a variety of controls to manipulate the cell depending on the its state.
Cells can be moved or copied to different locations on the spreadsheet by clicking and dragging the appropriate icons (Move or Copy) for a given cell to its desired location. To move a cell to a location on a different sheet, drag the icon over the target sheet tab to bring that sheet into focus first and then drop it at the desired location. If you move a cell to an already-occupied cell, the contents of the two cells will be swapped. See Figure The spreadsheet in editing mode... for an example of swapping two cells.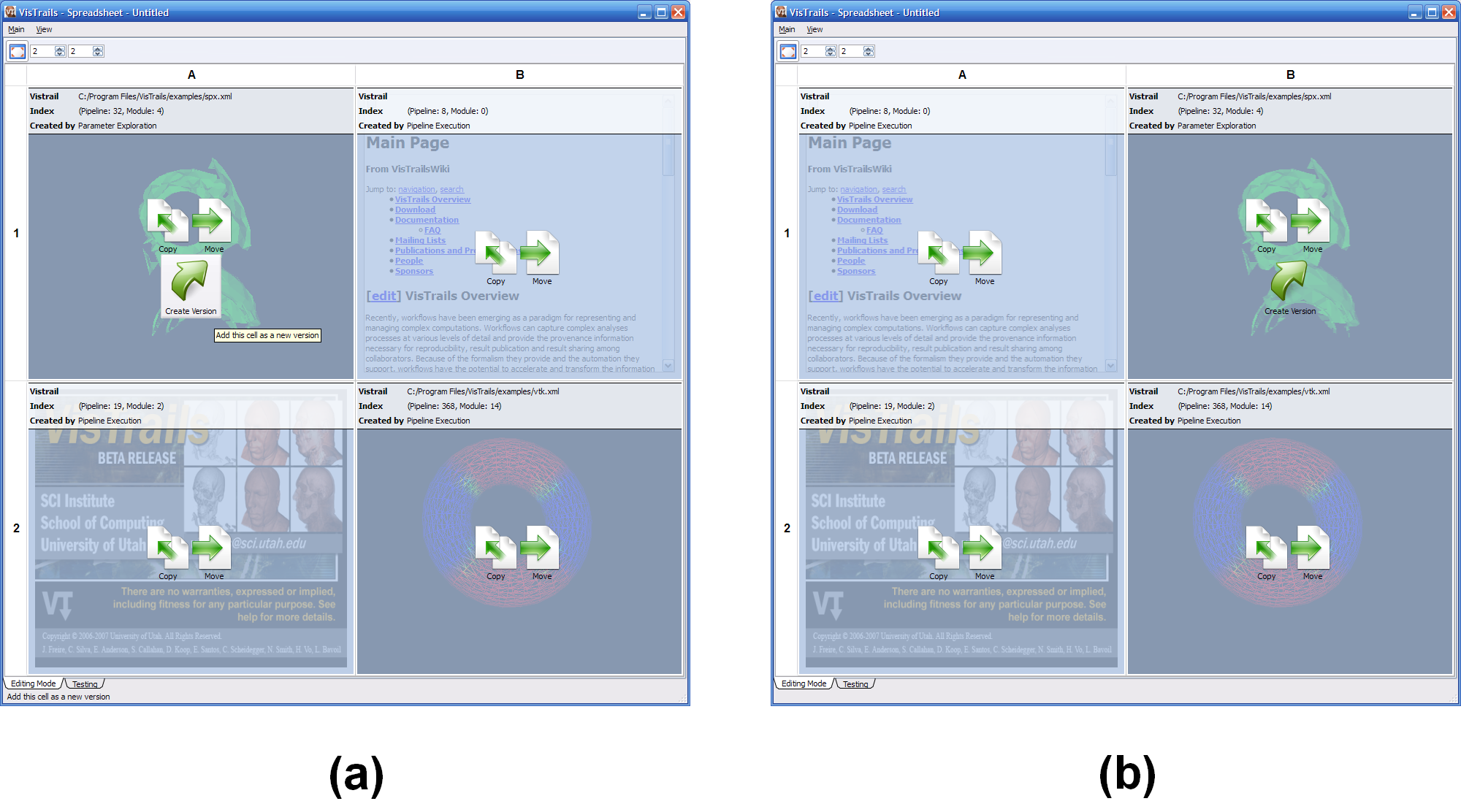 Clicking the Locate Version icon will highlight the node in the version tree (in the History view) from which the visualization in that cell was generated. The next two icons, Create Analogy and Apply Analogy, help with creating visualizations by analogy. Please refer to Chapter Using Analogies to Update Workflows for information about this feature.
If a cell was generated via parameter exploration (see Chapter Parameter Exploration), the Create Version button will be available to save the workflow that generated the result back to the vistrail. Clicking this button modifies the vistrail from which the cell was generated by adding a new version with the designated parameter settings. Thus, if you go back to the History mode of the VisTrails Builder for that vistrail, you will find that a new version has been added to the version tree.