User:Tohline/DarkMatter/VeraRubin
From VisTrailsWiki
Early Interactions with Vera Rubin
Note from Joel E. Tohline: Whether she knew it or not, Dr. Vera Rubin was a significant influence on my early astronomy career. What follows are some highlights of my early professional interactions with her.
Neighborhood Meeting at Yale University (1979)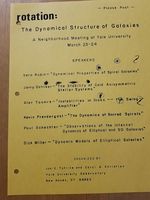 For two years, beginning in the summer of 1978, I held a J. Willard Gibbs instructorship in the astronomy department at Yale University. In my first year, I was encouraged — along with another young astronomer, Dr. Carol A. Christian — to organize a so-called
Neighborhood Meeting
at Yale. The idea was to focus on a topic that would bring together faculty and graduate students from universities and research centers that were "within driving distance" of the Yale campus; this, and limiting the gathering to 1.5 days (just one overnight stay) would keep travel expenses to a minimum. We accepted the challenge. Given that the astrophysics community, worldwide, was presently making significant progress on a number of issues — both observationally and theoretically — related to galaxies, the topic we picked was …
Rotation: The Dynamical Structure of Galaxies
(A Neighborhood Meeting at Yale University)
Dates: 23 - 24 March 1979
Dr. Vera Rubin was the opening speaker. It was an opportunity for the (> 90) attendees to hear and see — first hand from the expert — how significant the evidence was for flat rotation curves. Five speakers followed: Dr. Jerry Ostriker (Princeton), Dr. Alar Toomre (MIT), Dr. Kevin Prendergast (Columbia University), Dr. Paul Schechter (Harvard-Smithsonian CfA), and Dr. Richard Miller (Chicago).
Tohline Visits CIW:DTM (1980)
In early February, 1980, I visited the Carnegie Institution of Washington's Department of Terrestrial Magnetism (CIW:DTM) in Washington, DC to meet and interact with Vera Rubin and her research group. During that visit, I had the opportunity to present an informal talk in which I pitched the idea that flat rotation curves in galaxies might be explained by modifying Newton's law of gravity at large distances. This is the idea that I first presented in a formal manner at the IAU Symposium No. 100 in a paper titled, Stabilizing a Cold Disk with a 1/r Force Law.
IAU Symposium No. 100 (1982)
Rubin's Scientific American Article (1983)
See Also